Description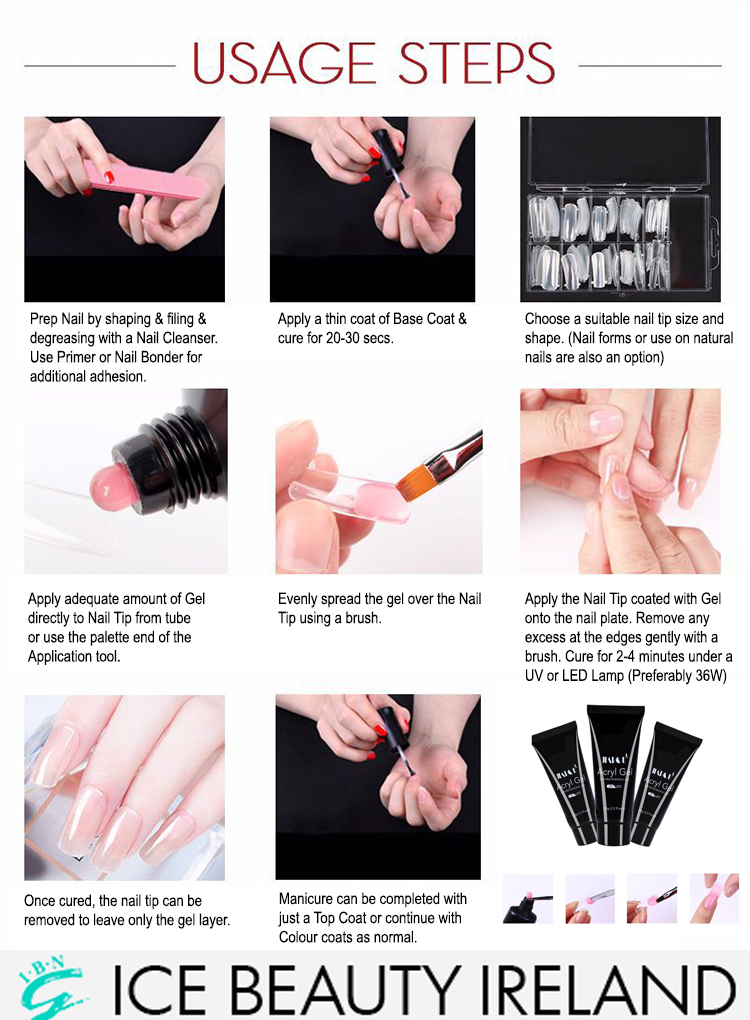 Prep Nail by Shaping and Filing, degrease with a wipe of Nail Cleanser/Dehydrator.
(Optional for additional adhesion) Apply a thin coat of Primer/Bonder & allow to air dry.
Apply a thin coat of Base Coat & Cure for 20-30secs.
Unless applying to natural nail- Apply a Nail Form or Choose a suitable size Dual Nail Form.
Squeeze an adequate amount of Acryl Gel on to Application Tool/Cuticle Pusher- (You can continue to form and move the gel once you don't cure so more can be applied if you do not have enough gel at first)
You can use Nail Cleanser/Isopropanol Solution as Slip Solution for easy manipulation of the gel- dip your gel brush into the liquid and dab off the excess and you can mould the gel easier around the Dual Form Nail Tip or Nail Form etc.
If using a Dual Nail Form, apply the tip to the nail gently to ensure correct placement then press firmly.
Cure for 2-4 minutes depending on lamp type and strength- preferably 36W power or higher.
The gel will be solid once cured- tap to be sure, you will know by the sound.
Remove the tacky layer with Nail Cleanser and file to the desired shape and length, be mindful of the side walls and don't thin them too much.
Apply Shellac Gel Polish or Nail Art as normal.
To reapply fresh Acryl Gel Nails, file the old enhancement down to 10% of original application to ensure integrity of the nail and reapply. To remove completely, file down to approx. 10% and soak off the remainder with Gel Remover/Acetone Solution.