Description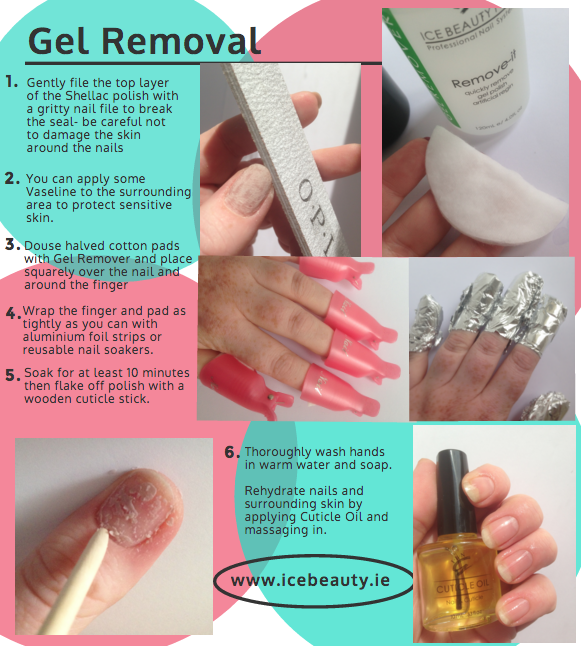 Gently file the top layer of the Shellac polish with a gritty nail file to break the seal- be careful not to damage the skin around the nails as the acetone may cause discomfort to damaged skin.
Prepare strips of Aluminium Foil before you begin- strips of approx 2-3 x 5-6inches- enough to cover the nail and wrap tightly around the cotton to hold it in place. Or use our Nail Soakers instead of Aluminium Foil.
If you have sensitive or broken skin around the nails, you can apply some Vaseline to the surrounding area to keep the acetone from causing a reaction.
Make sure you are in a well-ventilated area. Douse the cotton wool pad in Acetone and place squarely on your fingernail- (try to avoid the skin as much as possible) then wrap the finger and pad as tightly as you can with the Nail Soakers/ foil strips- the foil may relax as you soak so the tighter the better. Repeat for all 5 fingers.
Heat can increase the acetones effectiveness so you can place a warm face cloth over your wrapped nails to help it along- never heat the acetone directly (e.g. microwaving before use!) as it can release dangerous fumes.
After 10 minutes or so, check the 1st nail to see if it's flaking by securely gripping the finger and applying pressure as you twist the wrap off.
You can gently remove any remaining product using a cuticle stick or your finger but only if it chips off- be careful not to scrape the nail too hard as this will damage the nail plate.
If a lot of product remains, the best course of action is to rewrap the nail and allow the acetone to penetrate for another few minutes- if you are reusing the same wraps, you may need to douse the cotton in Gel Remover again as the acetone can evaporate over time.
Be sure to thoroughly wash hands with soap and warm water as soon as you're finished with the removal to decrease any chance of a reaction to the acetone, especially if you have sensitive skin.
At this point your nails are going to look dry and damaged, this is really an illusion from the acetone and once you rehydrate the nail and surrounding skin with Cuticle Oil or a good Hand & Nail cream, they should be good as new!